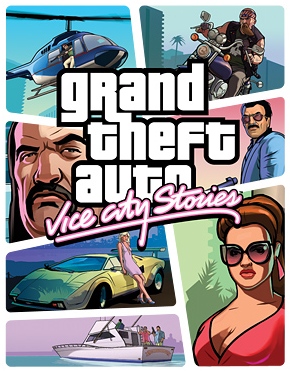 Grand Theft Auto: Vice City Stories is an open world action-adventure video game developed by Rockstar Leeds in conjunction with Rockstar North and published by Rockstar Games. Released on 31 October 2006 for the PlayStation Portable and later for the PlayStation 2 on 5 March 2007. The game is the tenth instalment in the Grand Theft Auto series and the sixth and last game in the 3D universe. This was also the last game in the series to use well-known and Hollywood voice talent; Grand Theft Auto IV onward would instead use lesser-known and unknown voice actors.
It is a prequel to Grand Theft Auto: Vice City and successor to the previous PSP release, Grand Theft Auto: Liberty City Stories. Vice City is a representation of Miami, Florida. Vice City Stories is the last Grand Theft Auto game for the PlayStation 2 console and the second game for the PlayStation Portable. It was released on PlayStation 3 via the PlayStation Network on 2 April 2013.
Storyline:
Victor "Vic" Vance is a corporal in the U.S Army. He is a man who came from a poor family, with his brother suffering from asthma Pete Vance and another lazy brother Lance Vance, and he is trying to make money for his dysfunctional family. He just arrived in Vice City in 1984 and he is now stationed at Fort Baxter. He arrives at the office of his supervisor, Sergeant Jerry Martinez, a corrupt soldier of the Army who is a drug smuggler. He instructs Vic to manage a drug deal. Vic arrives on the buyer's yacht, but they are ambushed by unknown assailants who blow up the boat, leaving only Vic alive.
After that, Martinez, despite being angry with Vic, gives him a new job. He visits Phil Cassidy, an eccentric war veteran who has a gun range at the docks, who gives him a gun and tests his skills. He makes another job with Martinez, who instructs him to get his girl Mary from a party. He goes to Phil's place and he provides him with the sports car. Vic arrives at the party, beats up several guys there and rescues the girl. He gets her back to the base, but a Master Sergeant confronts him about a pack of marijuana which Martinez planted under his bed, and he also confronts him about the girl, who reveals herself to be a prostitute. As a result, he is dishonorably discharged from the Army and charged with high treason.
Now on the streets, he gets a call from Phil, who gives him his old place to stay. He also does several missions with him, usually confronting Cholos. He also gets a call from Marty Jay Williams, who is Phil's brother-in-law. He runs the Trailer Park Mafia, a small organisation involved in racketeering, loan sharking, and prostitution. Vic does various missions with Marty, often protecting his business. Marty often abuses his wife Louise, who has a child with him. Louise develops a relationship with Vic, which angers Marty. Louise is one day beaten up badly and kidnapped by Marty, and Vic tracks him down and kills him.
With Marty dead, Vic takes over the Trailer Park Mafia, now renamed Vance Crime Family. Soon after, his brother, Lance Vance, arrives, hearing the news. He picks him up from the Escobar International Airport, but they are ambushed by Cholos. They manage to escape. As Vic expands the Vance Crime Family by taking over rackets from Cholos and Bikers, Lance sets up various deals. They transact with the Cubans under the leadership of Umberto Robina. Using a pinata resembling a rudely gesturing Robina, Vic destroys the Cholo's business, eliminating them from Vice City. Meanwhile, Lance has connected with Bryan Forbes, a local drug dealer. After several deals, they find out that he is actually a DEA agent working undercover, and he runs away with their money. They catch him and lock him in an old slum building, where they force him to expose drug deals around the town. He misleads them into various traps, even leading them to a gay bar. They return only to discover Forbes attempting to escape their captivity. Vic chases him and kills him.
After this, they locate and steal a major drug shipment, unaware that the drug shipment belongs to the Mendez brothers, Armando and Diego. Soon, they are kidnapped by them. Lance lies to them that Martinez stole the coke shipment, and that he is actually a DEA agent who wants evidence to arrest them, and they take photos of Martinez with a DEA agent, and they copy the Forbes files with Martinez's file, which describes Martinez as an agent. They do several jobs for Mendez brothers, who connect them to Reni Wassulmaier, a transsexual film director. He/she gives Vic several jobs to work, and he also helps her manager, Barry Mickelthwaite, to get Phil Collins on his concert unharmed from the Forelli mobsters, to whom Barry owes money.
Reni connects Vic to Ricardo Diaz, a drug baron, for which Lance and Vic do few jobs. The Mendez brothers are not pleased with this, and they betray them, saying that Martinez exposed them off, and if they give all of their business to them, they will let them go alive. They refuse this offer, and they are knocked out. They wake up at the power plant, where they kill several Mendez's men and barely escape. Vic cooperates with Diaz to take them out, and they break into the Mendezes' safe and destroy their bearer bonds, which makes Armando and Diego bankrupt. As revenge, the Mendez Brothers kidnap Louise. Vic wants to save her, but Lance is hesitant, until the Mendez's henchmen blow up his car. Losing his mind, Lance assaults them, and he gets into a trap, and the Mendez brothers kidnap him as well. Left with no choice, Vic arrives at their mansion, and fights with Armando, who arrived with a flamethrower and tries to burn him alive, but he manages to kill him. He finds Lance and Louise, but Louise is badly beaten and dies in his arms. Vic leaves angry, swearing revenge against Martinez and also Diego, who escaped.
Diaz helps Vic track Diego and Martinez. He makes Vic steal an army chopper from Fort Baxter. Phil helps Vic by making a diversion. After Vic successfully steals the chopper, Vic assaults the Mendez's fortress. He blows up a few floors, but his chopper is shot and he is forced to land on the building. He raids several offices, and he finds out that Martinez and Diego are on the roof. After a tense stand-off, Victor kills them. Moments later, Lance arrives in his chopper, and they leave.