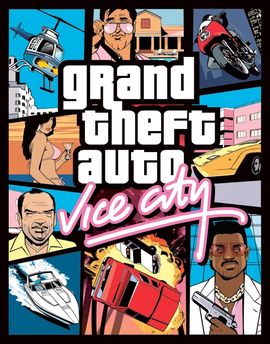 Grand Theft Auto: Vice City is an open world action-adventure video game developed by Rockstar North and published by Rockstar Games. It was released on 27 October 2002 for the PlayStation 2 console, on 12 May 2003 for Microsoft Windows, and on 31 October 2003 for the Xbox console. It is the sixth title in the Grand Theft Auto series.
Grand Theft Auto: Vice City is played from a third-person perspective in an open world environment, allowing the player to interact with the game world at their leisure. The game is set in 1986 within the fictional city of Vice City, which is heavily based on Miami. The plot is based on multiple real-life events in Miami such as Cuban, Haitian and Biker gangs of Miami, the 1980s crack epidemic, the mafioso-Scarface type druglords of Miami and the 1980s dominance of glam metal including a fictional glam metal band Love Fist as a group of Scottish musicians for the game involving several missions for the band.[b] and draws inspiration from 1980s' American culture. The single-player story follows Tommy Vercetti, a Mafia hitman who is released from prison. After his involvement in a drug deal gone wrong, Tommy seeks out those responsible while building a criminal empire and seizing power from other criminal organisations in the city.
Upon its release, the game was acclaimed by many reviewers who praised the music and gameplay, which uses a tweaked version of the game engine used in its predecessor. However, its violent and sexual content has also been the source of much public concern and controversy. It became the best-selling video game of 2002, and has sold over 20 million copies as of 2011; until July 2006, it was the best-selling PlayStation 2 game of all time. The game is cited as a landmark in video games for its far-reaching influence within the industry. The success of Vice City led to the creation of a prequel, Grand Theft Auto: Vice City Stories (2006), which revisits the Vice City setting just two years prior.
Its successor, Grand Theft Auto: San Andreas, was released on 26 October 2004, and also received critical acclaim. In December 2012, in celebration of the game's tenth anniversary, a mobile version of Vice City was released for iOS and Android. The game has also been ported to various other platforms and services, such as OS X and the PlayStation Network.
Storyline:
In 1986, Tommy Vercetti, a loyal and former member of the Forelli Family, is released from prison after having spent 15 years inside for the murder of 11 men in Liberty City. Tommy's former boss, Sonny Forelli, fearing that his presence will heighten tensions between the other Liberty City families and bring unwanted attention to his own organisation's criminal activities, ostensibly promotes Tommy to a capo and sends him to Vice City to act as the Forelli's buyer for a series of cocaine deals, under the guardianship of a crooked lawyer and Sonny's contact, Ken Rosenberg. Sonny's interest for the deals is to help expand his family activities down into the South, overrun the Liberty drug market with the high-end cocaine from Vice City, and thus hopefully create a monopoly on the Liberty City drug ring that will establish the Forelli Crime Family as the best in the city. When Tommy and his bodyguards arrive in Vice City, Ken takes them to the deal's site at the dock, where they meet with the prominent drug kingpin of the Vance Crime Family, Victor Vance, brought in by chopper by his brother, Lance Vance. Just before they settle the deal on the drugs, the group are ambushed by several armed and masked men, who kill Victor and Tommy's bodyguards. Tommy narrowly escapes with Ken from the docks, losing the Forelli's money and the cocaine in the process. After Ken returns to his office, Tommy drives back to his hotel and informs Sonny, promising him under the threat of consequences to get back the drugs and money, and kill whoever was responsible for the ambush.
Seeking information, Ken points him towards Juan Garcia Cortez, a retired Colonel and the man who organised the deal between the Vances and Forellis. Expressing regret for the matter, Cortez promises to help Tommy find out who masterminded the ambush plot, while introducing him to his daughter Mercedes, who becomes Tommy's confidante shortly thereafter. In the process of finding leads, Tommy soon meets with and works with some of Vice City's residents as an errand boy and a hitman, including cocky 21-year-old British record producer Kent Paul, real estate mogul Avery Carrington, and Lance Vance, younger brother of Victor and the underboss of the now-defunct Vance Crime Family, who wants revenge for the death of his brother and also wants the Vance Crime Family back on the map.[5] As time passes, Tommy also meets with a drug baron named Ricardo Diaz, who is impressed with his skills after he protects him during a deal with a group of Cubans by killing a gang of Haitians that ambush it, and thus hires to him to help with his own agenda.
After Tommy kills Cortez's lieutenant Gonzalez, who was partially held responsible for the ambush on Tommy's cocaine deal, Cortez voices his suspicion that Diaz might have been behind the ambush. Tommy decides to continue the status quo with Diaz until he can prepare an attack, but has his hand forced when Lance attempts to take revenge by himself and fails. Upon rescuing him from a junkyard, Tommy and Lance quickly raid Diaz's mansion and execute Diaz. With Diaz dead and Cortez forced to leave the city after stealing French military property, the established drug empires in Vice City soon begin to quickly crumble, allowing Tommy and Lance to personally take over and become Vice City's drug kingpins. In the process, this allows Tommy to create his own organisation, the Vercetti Crime Family, allowing him to distance himself from the Forelli Family and Liberty City so that he can personally control Vice City rather than doing so as a Forelli puppet.
Building up his empire, Tommy works with the Cuban's leader, Umberto Robina, in their fight against the Haitians, despite their leader, Auntie Poulet, hypnotising him to assist her in fighting the Cubans. After destroying the Haitian's drug factory, Umberto becomes Tommy's partner in the drug trade. Along with his help, Tommy earns the respect and friendship of Big Mitch Baker, leader of a biker gang and a Vietnam veteran, whose bikers work alongside the Cubans to become protectors of Vercetti family business. Along with working for the bikers and Cubans, Tommy also becomes a personal bodyguard to glam metal band Love Fist, pulls a major bank heist, and expands his drug business by buying up assets in nearly bankrupt companies and turning them back into a competitive business, in the process using them as a front to either produce or distribute drugs, launder money, control the underground movie scene, or operate as a chop shop. But as Tommy becomes more powerful and rich, he soon begins to suspect Lance is up to something when the latter begins slowly exhibiting paranoia and sociopathic behaviours, to the point that he begins to abuse his own bodyguards and constantly call Tommy in states of hysteria, losing his mind over being just a powerless second-in-command as he was under his brother for the past 2 years.
Eventually, Sonny discovers that Tommy has gained complete control over Vice City's drug trade without sending a single dime back to the Forelli family. Enraged that Tommy has become independent and is hustling him, Sonny sends high-ranking Forelli members to forcefully collect money from Tommy's assets. Tommy quickly disposes of them and soon decides to sever his ties with Forelli family after they injure the elderly operator of his counterfeit money operation. Sonny arrives to the Vercetti Estate with a small army of mafiosi, and demands his tribute under threat of force, but just as Tommy attempts to give it in counterfeit money, Sonny reveals that he felt his business would have been taken over by Tommy, thus he was set up fifteen years ago when he was sent to kill the eleven men he went to prison for. Lance then exposes Tommy's attempted deception, revealing himself as a traitor after admitting to have informed Sonny about Tommy's activities in Vice City. Lance explains that he did so because Tommy started to disown him and was not treating him equally, and so wanted him dead so he could rebuild the Vance Crime Family and the fortune that he once had with his brother.
Angered at this betrayal, Tommy starts a gunfight, in which he chases and ridicules Lance, before killing him for his treachery. Heading through his estate, the gunfight eventually culminates in Sonny's death, allowing Tommy to establish himself as the undisputed crime kingpin of Vice City, before reassuring Ken, who arrives and is shocked by events, that everything is fine.