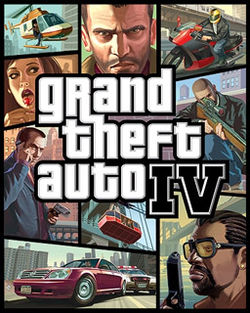 Grand Theft Auto IV is an open world action-adventure video game developed by Rockstar North and published by Rockstar Games. It was released on 29 April 2008 for the PlayStation 3 and Xbox 360 consoles, and on 2 December 2008 on Microsoft Windows. It is the eleventh title in the Grand Theft Auto series, and the first main entry since 2004's Grand Theft Auto: San Andreas. Set within the fictional Liberty City (based on New York City), the single-player story follows a war veteran, Niko Bellic and his attempts to escape his past while under pressure from loan sharks and mob bosses. The open world design lets players freely roam Liberty City, consisting of three main islands.
The game is played from a third-person perspective and its world is navigated on-foot or by vehicle. Throughout the single-player mode, players play as Niko Bellic. An online multiplayer mode is included with the game, allowing up to 32 players to engage in both co-operative and competitive gameplay in a recreation of the single-player setting. Two expansion packs were later released for the game, The Lost and Damned and The Ballad of Gay Tony, which both feature new plots that are interconnected with the main Grand Theft Auto IV storyline, and follow new protagonists.
Storyline:
Following his cousin Roman's request, Niko Bellic, an Eastern European, comes to Liberty City to pursue the American Dream, and to search for the man who betrayed his unit in a war fifteen years prior. Upon arrival, however, Niko discovers that Roman's tales of riches and luxury were lies concealing struggles with gambling debts and loan sharks, and that Roman lives in a dirty apartment rather than a mansion.
Niko defends Roman from his loan sharks several times, eventually killing Vlad Glebov, Roman's Russian loan shark. Niko was forced to work for Vlad to settle Roman's debts but ended up killing him after learning that he had slept with Roman's girlfriend, Mallorie. After Vlad's murder, Niko and Roman are kidnapped by members of the Liberty City Bratva on order of Mikhail Faustin and his associate, Dimitri Rascalov. Faustin, not bothered by the murder of Vlad, hires Niko. Niko quickly learns that Faustin is a psychopath when he orders him to kill the son of Kenny Petrović, the most powerful man in the Liberty City Bratva. After the Petrović family threatens retaliation, Dimitri orders Niko to assassinate Faustin in order to prevent a gang war. When Niko meets with Dimitri to collect on the assassination, Dimitri brings Niko's former employer Ray Bulgarin instead, the latter accusing Niko of stealing from him a few years earlier. When Niko truthfully denies the allegation, a firefight ensues, allowing Dimitri and Bulgarin to escape.
Immediately afterwards, Niko and Roman are forced to escape to Bohan when their apartment and taxi company are destroyed in arson attacks by Dimitri's men. However, things go poorly as well in Bohan: Dimitri's men kidnap Roman in a failed bid to ambush and kill Niko, who rescues Roman. Furthermore, Niko's girlfriend Michelle reveals that she works for a government agency and entraps Niko into working for her agency, known only by its cover: United Liberty Paper. Niko kills several known or suspected terrorists for the agency in exchange for the file of the numerous crimes the police have on him and the promise of assistance in finding the traitor of his unit.
Eventually, United Liberty Paper tracks down the man responsible for Niko's unit's betrayal, Darko Brevic, and brings him into Liberty City. Niko confronts Darko and decides his fate. Having dealt with his past, Niko is summoned by one of his employers, Jimmy Pegorino, who demands one final favour: to help with an extremely lucrative deal on heroin in collusion with Dimitri Rascalov.
At this point, Niko is faced with two choices: strike a deal with Dimitri, or exact revenge on him. Should Niko go through with the deal, Dimitri sets up Niko by taking the heroin for himself. At Roman's wedding, an assassin sent by Dimitri kills Roman with a stray bullet as Niko disarms and kills him.[40] A devastated and vengeful Niko later tracks down, chases, and kills Dimitri, but not before witnessing Dimitri executing Pegorino. Should Niko choose to exact revenge, Niko ambushes and executes Dimitri. At Roman's wedding, Pegorino, furious after Niko's betrayal, commits a drive-by shooting. He targets Niko, but ends up killing Niko's girlfriend, Kate. Niko soon tracks down, chases, and kills Pegorino, who had become hated and targeted by the entire Liberty City underworld.